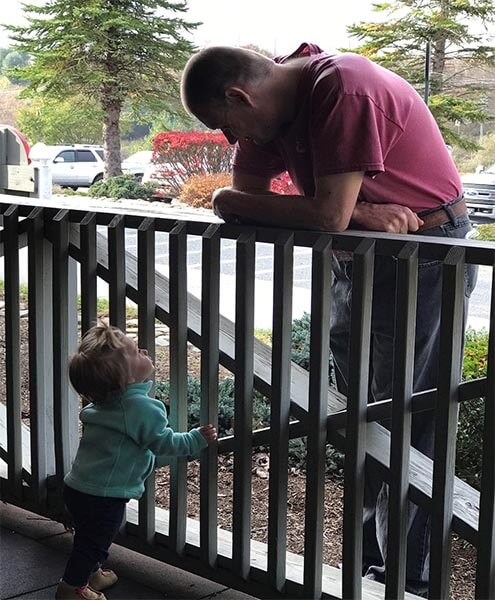 From the Young to the Young-At-Heart
What do you look forward to each day?
For Lee (pictured right), he looks forward to coming to Generations Adult Day Health Center, a place he can come to each day to be with friends for meals and activities...a place he has attended for the past 13 years.
Can you imagine the joy of coming to a place every day that makes you feel an immeasurable sense of purpose and happiness?
Prior to attending Generations, Lee lived with his aging mother, but she sadly suffered a stroke and was placed in a nursing home where she passed away. Thankfully, a family friend invited him into their home to live and brings him each day to Generations. At Generations, Lee finds a sense of purpose and industriousness despite his challenges, one of which is a speech impediment that makes him very difficult to understand. During his time here, he helps staff with daily cleaning tasks, carrying meals and supplies around the agency in his wagon, and greeting all of our visitors with handpicked flowers or a picture he has drawn.
He shares these same gifts with the children, like Emery (pictured with Lee) who attends Generations Child Development Center. The children love Lee's easy presence, his enthusiasm for racecars, and the special tokens he offers them throughout the day that make him smile.
Here at Generations Ashe, our mission is lived out every single day through those we are blessed to serve. We provide connections for participants like Lee through socialization with friends, shared interactions with our day care children, and a sense of purpose as he assists others around the agency. We embrace challenges with Lee, understanding that while his speech impediment is a challenge, we will not shy away from such barriers, but instead we will boldly accept them and celebrate all that makes us who we are. We enrich Lee's life by inviting him each day to a place that gives him happiness…happiness in serving others and sharing his gifts. From generation to generation, we are proud of the opportunity we have to make a difference in the lives of the young to young-at-heart. Connecting people. Embracing challenges. Enriching lives…from generation to generation.